[It's Monday! What are you reading? is hosted by Sheila at Book Journey]
Well, my personal reading time has been little as of late but I started Habibi by Craig Thompson last week and have gotten about half way through now.
This book is gorgeous and normally, I think I would have finished this in a day if I didn't have so many distractions. It's a graphic novel, done in stunning black and white drawings.
It's about this:
Sprawling across an epic landscape of deserts, harems, and modern industrial clutter, HABIBI tells the tale of Dodola and Zam, refugee child slaves bound to each other by chance, by circumstance, and by the love that grows between them.

At once contemporary and timeless, HABIBI gives us a love story of astounding resonance: a parable about our relationship to the natural world, the cultural divide between the first and third worlds, the common heritage of Christianity and Islam, and, most potently, the magic of storytelling.
The story starts with Dodola being  sold to her a man  into marriage by her father. She's 9. I had to put it down for a bit and come back to it. Then I was ok and got wrapped up in this young woman's story as a slave & courtesan.
The imagery surrounding everything related to pregnancy and childbirth is breathtaking, or maybe I'm so impressed because I'm a birth junkie. It might just be me because searching images on Google, most of the illustrations posted are not related to pregnancy or childbirth. There's this one and it's not the best: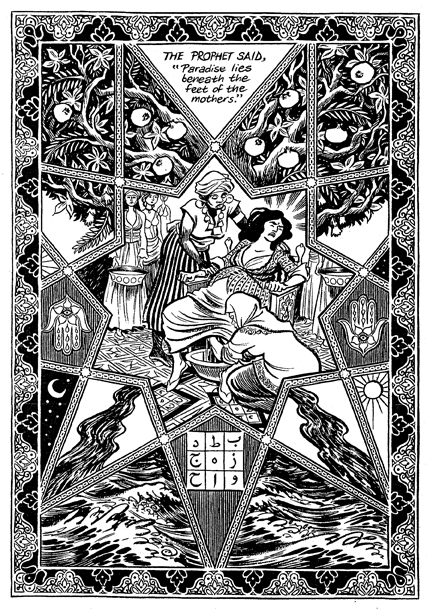 But you can see how layered and detailed and laden with symbolism the artwork is. The story itself is well written but there is just as much in the illustrations to wrap your brain around.
[Jen & Kellee at Teach Mentor Texts also host a version of  It's Monday! What are you reading? for picture books to YA ]
As usual, lots of kiddie lit reading here,though.
Unfortunately, this is the one Loki wants me to read to him at bedtime the past few nights:
I would almost rather read  The Berenstain Bores .
It's a good thing he's getting more confident in his reading skills. Soon he'll be able to read it to himself.
We have also read and reread this a few times….Z is for Moose by Kelly Bingham and illustrated by Paul O Zelinsky
This is one of the best alphabet books I've ever seen.  It has more of a plot,unlike most ABC books. Zebra organizes his friends to perform the alphabet, like a play, directing them to appear on the page in order. Moose doesn't follow directions very well (he's very impatient) and then to top it off, Zebra forgot to put him in the line-up. Not good,Zebra. Not good.
Funny and actually entertaining…not your standard alphabet book.
We also read Love,Mouserella by David Ezra Stein. Loki actually didn't want to read this one at first. Judging by the cover, he thought it was going to be …."too girly." Yes, we're at that stage, it seems. I was actually shocked to hear those words come out of his mouth (because we are SO not into gender stereotyping in our house) but my little boy seems to have picked up a thing or two from his male classmates. Boo.
Anyway, I convinced him to give it a try and he really liked it. Amazing,huh? It's not a "girly" story…it's just simply about a little mouse who happens to be a girl, writing a letter to her Grandmouse. The format of the book is great. Pages are orientated so you read it "sideways" and the pages look like lined notebook paper. Her letter resembles more of a scrapbook feel, including her drawings ,photos and found objects. Very creative design and cute story.
There were a few others we read that were good but apparently not good enough for a requested re-read. I've posted them on my We Read These  pinterest board.