I dove into The Marriage Plot last week. Nervously. The Wind-Up Bird Chronicle made me feel so insecure about my ability to read anything more complicated than Goodnight Moon or 50 Shades of Grey. I slogged through a little over half of the book and then quit. I rarely just quit books like that but I had to for my own mental health. I had read so many positive, glowing reviews of The Wind-Up Bird Chronicle that I was excited to have the same reaction. When I was several chapters in and realized I was not going to have that same love affair, I began to feel like maybe the problem was me and not the book.Maybe I lost a few too many brain cells from each baby I gave birth to . I just could not get into it. I was confused a lot. I didn't like anyone in it.  I continually felt like I was missing something, like a deeper meaning I just wasn't seeing. I couldn't relate to anything. The surrealism was just too pointless and weird. Nothing connected. Nothing even happens except for a cat disappearing and some unemployed guy having dreams about sex with women and ejaculating in his sleep, only to find out the woman is a "prostitute of the mind" (what even?) .And then he goes and sits in the bottom of a well.
I had the feeling that I must be really ,really stupid that I wasn't having a life-altering experience reading this.
I really should have read the one star reviews on Good Reads so I could have given myself permission to give up on it sooner.
So, I fell into The Marriage Plot immediately and it doesn't make me feel stupid and I'm actually liking it.
I also borrowed Green Thoughts by Eleanor Perenyi  as a digital download for my Kindle. I am officially in love with it and must own a copy for my own collection. The foreword begins with her talking about the first garden she ever had "at her husband's castle". I thought, "Oh,man…if she's going to be bragging about her man with his castle in Hungary, I'm going to hate this.", but as she elaborates, you figure out she wasn't exactly well off in the castle, as WW2 dawned on them. The book is a collection of essays, organized alphabetically. B for Beans. C for Compost. M for Magic. W for Woman's Place. These green thought's of Perenyi's are fabulous, with an air of dirt-loving, tree-hugging hippie feminism., before it was really a thing.
Here's an excerpt being read to get a taste of what it sounds like:
Other Library Loot this week….

21 Jump St -seasons 1 &2
My tween wanted to watch it. The fact that I watched it when I was her age when it was on TV…yeah, it makes me feel a little aged. It's hilarious watching it now. I don't think she's as impressed as she thought she would be, although Johnny Depp is worth watching it for. I wasn't all that into him…I was more swoony over Richard Grieco. What the hell ever happened to him?
How did I never think this intro was cheesy and annoying before?
——————————————————————————————————–
This whole album is great. I love the chemistry the two of them have as a duet. My favorite on this whole CD is not one of their originals,though but a cover of Leonard Cohen's, "Dance Me to the End of Love".
—————————————————————————————————–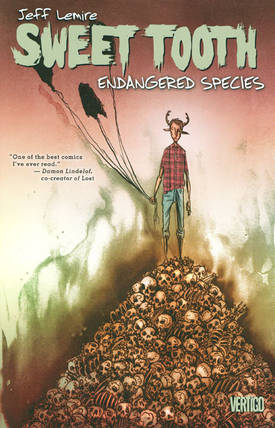 It just gets better and better.Here and here are previous thoughts on the first issues.
———————————————————————————————————–
You may recollect that I lost nearly all my music. Thank you ,library, for helping me rebuild it digitally.
————————————————————————————————————-
I've had this for over a week and haven't made anything yet. Better get going on that. I've glanced through it and looks like there's some definite winners in here
—————————————————————————————————-

Robot Zot By Jon Scieszka Illustrated by: David Shannon
Not my favorite book to read out loud. Loki demands I do "my robot voice" and it hurts my throat. Now I make him read it :-)
——————————————————————————————————————————-
For my lego fan.
Library Loot is a weekly event co-hosted by Claire from The Captive Reader and Marg from The Adventures of an Intrepid Reader that encourages bloggers to share the books they've checked out from the library. If you'd like to participate, just write up your post-feel free to steal the button-and link it using the Mr. Linky any time during the week. And of course check out what other participants are getting from their libraries!

It's Monday! What Are You Reading is hosted by Book Journey